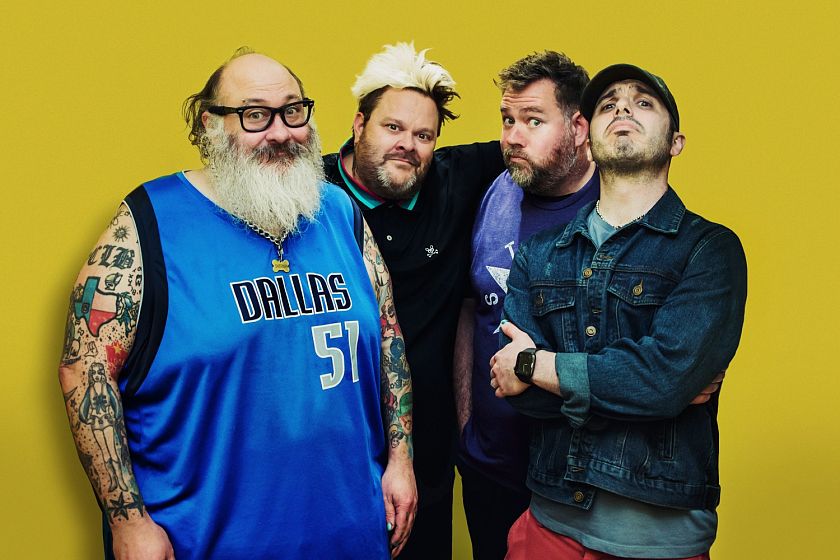 Bowling For Soup
Bowling For Soup
For the better part of three decades, Bowling For Soup have always been the band who felt like part of your family. Whether it was making you laugh with their unique humor, motivating you through tough times, or helping ease the pain of past relationships with one of their breakup songs, there's a Bowling For Soup song for all occasions.
Dubbed the crown princes of pop punk, Bowling For Soup - frontman and guitarist Jaret Reddick, fellow guitarist Chris Burney, drummer Gary Wiseman and bassist Rob Felicetti are enjoying their most successful time as a band since they broke onto the world stage two decades ago. Songs such as High School Never Ends, Punk Rock 101, 1985 and of course the Grammy nominated Girl All The Bad Guys Want resonate as much today as when they were written and are proving extremely popular in the modern streaming world. More recently, Alexa Bliss - the 2020 single dedicated to the WWE wrestler of the same name - provided the band with their biggest hit in well over a decade, racking up millions of views on YouTube and beyond. It's a testament to the bands' enduring appeal and a fanbase that continues to grow day after day - evidenced by their 100 million streams on Spotify in the year 2020 alone.

Finding their niche back in the 1990's would be tough when the musical climate was in serious shift. "We were just the stereotypical, small town guys with nothing else to do - starting a band to keep ourselves out of trouble" recalls frontman Jaret Reddick looking back. There was certainly no trend to follow, every other band seemed to be genre jumping to try and catch "the next big thing" without knowing what "the next big thing was", leaving the members of Bowling For Soup with no option to just go out and have fun. Brought up on a heady diet of 80's John Hughes Movies, LA Hair Metal, Steve Martin comedy routines (which spawned the band's name) and hook laden punk rock, BFS hit the ground running on the simple blueprint - have a good time and pretty soon, everyone else will join in!
Bowling For Soup are a band who've proven time and again that they can move with the times throughout a period of turbulence for the music industry. From their DIY roots, through to being on a major record label for many years (Jive Records) and onto setting up their own operation, they are a band who've found success in every way. The last decade has seen Bowling For Soup go on to form their own cottage industry, recording and releasing albums on their own terms. 'We're in control of everything now. If we decide we wanna do something, we just do it - we don't need to ask anyone's permission. It also makes you feel super proud when you do something yourself and it's a success', reveals Reddick. Being early adopters of fan funded music, the band have fan interaction to the next level with each project proving more and more rewarding and successful for both the band and their fan base.

Prior to the COVID-19 outbreak, Bowling For Soup were playing to the biggest crowds of their career. Over 20,000 people witnessed their sold out 2020 UK tour with Simple Plan and they've sold out arenas alongside Steel Panther. Headline appearances at recent editions of UK festivals like Slam Dunk and Reading and Leeds have gone down a storm. At Reading Festival 2019 the crowd overblowed out of the stage with fans peering for a glimpse of "BFS", while their appearances at the binal editions of the US Vans Warped Tour brought enormous crowds to every show, no matter what time of day the band were performing.

It takes more than a global pandemic to stop the power of positivity that Bowling For Soup's music can bring. Frontman Jaret Reddick - a huge advocate for positive mental health in the music industry and beyond, performed over bifty "pay what you can afford" streamed shows, helping to give thousands of fans moments of joy and comfort through the difbicult early months of the COVID-19 outbreak. The band have also contributed to multiple fundraising streamed shows, helping causes from charities to venue fundraisers. November 2020 saw the band take the leap into the world of full band, full set live streams to great success, with coverage in UK national newspapers and beyond. Still nothing beats the feeling of Bowling For Soup live in the blesh, and the band are making plans to be back in front of their US fans as soon as possible. A unique tour, "Bowling For Soup Surf The UK", featuring a tour focused on the seaside towns and cities of the UK, hopes to take place in April 2022.

In an industry that is ever evolving and has had to adapt more than ever in recent times, Bowling For Soup are ready for their next chapter. Armed with their infectious personality, they will always be the Bowling For Soup you know and love. And let's not forget, they'll always be the band that waves back!