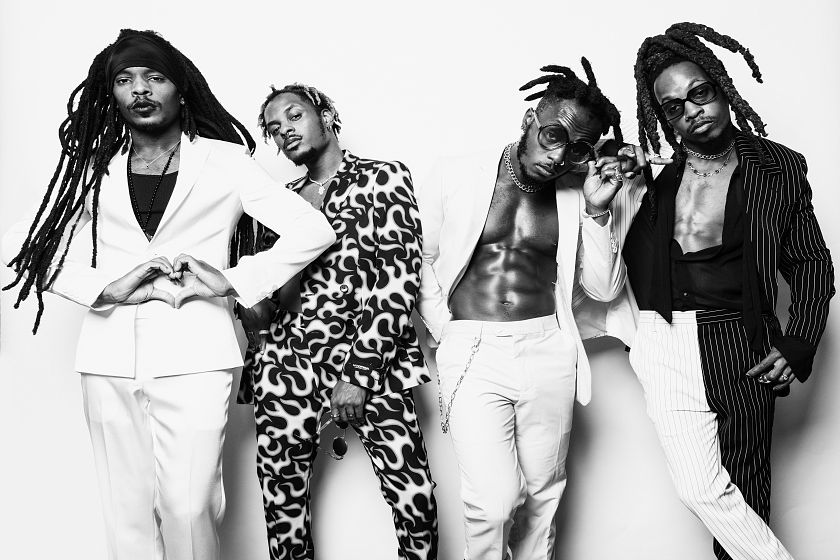 Hero The Band
Hero The Band
Hero The Band is a multifaceted band from Decatur, Georgia comprised of four biological brothers with a unique musical vision that blurs lines and genres. Drawing from a world of influences who include: The Temptations, Prince, Michael Jackson, Queen, Phil Collins, Outkast, and Coldplay, HTB writes music that exceeds and defies all expectations of what a four-man band can be and stakes out such a particularly creative piece of turf that it has no real competition.

Hero The Band recently signed with Lava/Republic Records and is fully prepared for the new level of its career. The lineup of Justin Barnett aka Ocean, Jerramy Barnett aka Goku Love, DJ Barnett aka BamBam, and Nick Barnett aka Nikky Jupiter are part of a large musical family. Both their mom and dad sing; the band are fourth generation musicians, coming through a family line of singers and musicians from all sides. The band began performing together in church at ages two, three, four, and five. They sing the kind of sweet harmonies that only siblings can produce and also possess high-level skills on guitar, keyboards, bass, and drums. The personal and musical tightness they share gives them the boldness required to take their music to the world, which is the immediate next step on their journey. HTB has already worked with notable figures like Big-Krit, Childish Major, Trinidad James, Jack Harlow, Tish Hyman, Pete Nappi, Nicholas Furlong,and Donovan Jarvis, and HTB looks forward to collaborating with other A-list artists in the future.
Hero The Band plans to accomplish big goals; the brothers want to tour the world, spread their positive message, provide for their families, and help emerging artists develop not only as great entertainers, but as savvy business individuals. Hero The Band is learning that exactly what they put into the Universe comes back to them and they understand the importance of faith, family, and community. Hero The Band writes "real lyrics with real sound", a type of "timeless" music to heal themselves and the people around them; they know that the most powerful form of swagger they can show is to be themselves with no apologies. HTB has the potential to achieve its dreams, exceed its aspirations, and become one of the most extraordinary new acts of the next decade. Discover Hero The Band today and hear the sound of a legend being built.