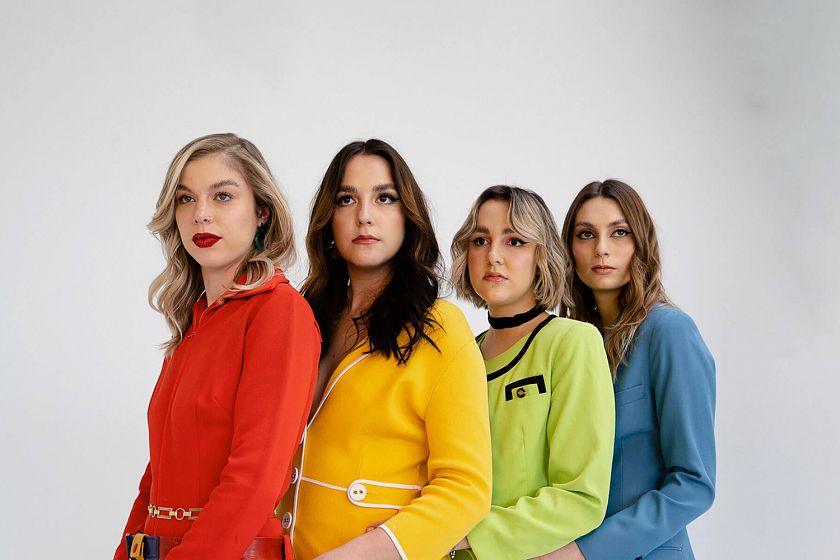 The Beaches
The Beaches
The Beaches 'next few singles will surprise fans with their distinctly indie-pop direction, and yet within the lyrics of this Juno-winning Toronto rock band — which formed in their teens, have opened for the Rolling Stones and Foo Fighters, counts Elton John as a fan and are closing in on a decade together — is a theme not uncommon to musicians, or anyone in the music industry: perpetual adolescence, or as lead vocalist/bassist Jordan Miller refers to it "arrested development."
"We want our music to reflect who we are as individuals. We're still young and we're women and we want our music to sound how we are as people," Jordan says. "We're not
abandoning our rock 'n 'roll roots, but for this next chapter of our career we wanted to take ourselves less seriously, have fun, and be less precious with the musical ideas we pursue."
New songs "Grow Up Tomorrow," "Orpheus" and "My People" — to be released in this order over the next six months — are filled with humour and cool clever lines. Many are inspired by past, present and future things that have happened in the lives of Jordan; her sister, guitarist Kylie Miller; keyboardist/guitarist Leandra Earl; and drummer Eliza Enman-McDaniel and those of their friends.
(Yes, Kylie has a friend who sent pictures of her feet to a man in Japan, which Jordan disguised in "My People" as "sold my panties to some guy in Russia." More on that later.)
The first single, "Grow Up Tomorrow," co-produced by Gus Van Go (Arkells, Whitehorse) and artist/songwriter Lowell (Charlie XCX, Madison Beer, Hailee Steinfeld), who also co-wrote the song with the band, is a big, bright, ultra-catchy anthem (complete with whistling) in solidarity with all young adults still borrowing money, delaying doing laundry for weeks, and living in a basement, while their friends are buying their first homes, getting married, even having babies.
"You're given these momentous life moments but because we're in a band, those moments aren't the same for us," Jordan reflects. "I'm happy we chose the road we did. Maybe I'll grow up tomorrow and things will happen later for me." Or not.
All four of The Beaches are lifers. They decided that in high school, when they forfeited joining their friends at university because their music career was going so well.
Jordan and Kylie had been jamming together since they were kids (6 and 7 years old) in a band they called Done With Dolls; Eliza joined in grade 6, followed by Leandra in high school, and adopted the name The Beaches in 2013 after the neighbourhood in which they lived. They practiced every single day, the way some kids do their homework. In 2013, they released a self- titled EP and another, Heights, a year later.
By 2016, they landed a major label deal with Island Records, and released their debut album, Late Show, in 2017, produced by Metric's Emily Haines and Jimmy Shaw. "T-Shirt" peaked at No. 1 on Billboard's Canada Rock chart and was certified gold. Their next two EPs, 2019's The Professional and 2021's Future Lovers — both produced by Jacknife (The Killers, U2, Weezer) were combined for the 2022 release of the full-length Sisters Not Twins (The Professional Lovers Albums).
In all, The Beaches have earned six top 5 singles, "Money," "T-Shirt," "Want What You Got," "Lame," "Let's Go" and "Blow Up;" won two Juno Awards, breakthrough group in 2018 and earlier this year, rock album of the year for Sisters Not Twins.
"If you listen to the album before last, you'd think, 'These girls are definitely in high school, ' and after our last album came out we had a chance to find new inspiration and excitement in music from artists like Muna, Dayglow, Coin, Olivia Rodrigo, Girl in Red, Wet Leg, Wolf Alice and The Strokes," says Jordan. "These next three songs are the next phase for us. They're a taste of where we're heading and it's going to give us time to write and grow and explore this new sound."
Which leads us to the other two songs, "Orpheus" and "My People," which The Beaches wrote in the U.S. with Jacknife Lee in between tours with Jimmy Eat World and The Aces.
"Orpheus" is quite left field for The Beaches. A mellifluous, wistful light indie-pop song, it even shows off a different, softer vocal delivery for Jordan. Lyrically, it's her take on the Greek mythological character after watching the 1960 Oscar-winning Brazilian romantic-tragedy Black Orpheus. At its core is the god's warning to him to not look back (of course he does). "I took that myth as a young woman going back to revisit a high school sweetheart," she says, reminiscing in the lyric about fooling around in his basement, hanging out on his couch and taking a bus together at 2 a.m. to the city.
The third single, "My People," with a kind of quirky new wave rock ennui, is an amalgamation of stories from people they know, and sometimes reimagined from other slacker minutia: live up above a McDonalds, live off egg and cheese and coffee, start some shit in the chatroom, drunk and need a kiss, and, yes, sold panties to a guy in Russia. "All I know is I'm enjoying this," Jordan sings.
And we are too.
'"My People' is about enjoying this state of arrested development," she explains. "We've been playing and writing alt-rock tunes for the last nine-plus years and we've become established in our career. We left our label and have new management and are dealing with a lot of stuff ourselves. We have way more responsibilities, but we're not in a position to abandon being shitheads either. We're in a state of arrested development (laughs)."